This is the testing Godot forums!
All forum posts unique to this forum will be deleted!
Please use the
main forums
here for any posts you want to keep. All forum rules still apply.
Racing game - TrackMaster: Free For All Motorsport
Saitodepaula
Posts: 48
Member
THIS FIRST POST WILL BE REGULARLY UPDATED WITH THE NEWEST INFORMATION, NO NEED TO SCROLL TILL THE END OF THE TOPIC!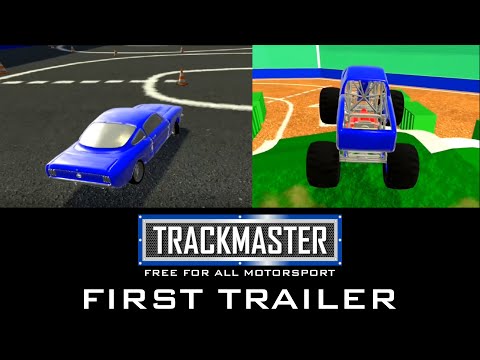 First trailer for my first game: TrackMaster: Free For All Motorsport!
TrackMaster is an all-terrain, all-vehicles, physics based racing game coming for PC: play whatever way you want, in any kind of track and event, with any vehicle!
The game is still in very early development phase, so I'm always posting new stuff, showing game modes, vehicles and tracks!
PLAY THE DEMO!
https://trackmaster.itch.io/trackmaster-free-for-all-motorsport
So, what is this game about exactly?
TrackMaster is a game about racing, vehicular mess and crazy types of events and competitions: doing unexpected things with unexpected vehicles! Want to take a trailer truck to a stunt track? Why not? Want to do a race in a figure 8 track featuring a monster truck, a muscle car, a truck and a bus? Why not?
The game will let you drive freely in any track in a freeroam mode, race in tracks designed for collisions, and take part in events for doing stunts, dominating the hill, playing football and many others!
Many games, old and new, are inspiration for TrackMaster. Some of them had features "copied and pasted" to TrackMaster (because no one is making it anymore, or just because the idea is too good not to be copied!) others, simply serve as a loose inspiration because of the feeling you had while playing them. Some of the games are: Destruction Derby, Test Drive: Eve of Destruction, Insterstate'76, Twisted Metal (the first one), WreckFest and BeamNG.drive.
It's Physics Based!
The game is designed as a balanced blend of simulation and fun: the vehicles are entirely governed by physics, so that you can always see a different result from collisions, jumps and stunts.
The vehicles sizes and weights are also proportional to each other as in real life. If you drive a 6 ton truck at 100 km/h into regular cars, expect the poor cars to get thown away. But here comes the balance to be fun: the truck won't take 15 seconds to reach 100 km/h (as it would in real life), it's acceleration will let it race against sports cars and other fast vehicles!
The physics based system also allows for different handling of RWD (rear wheel drive), FWD (front wheel drive) and 4WD (4 wheel drive) vehicles.
Local Multiplayer is Back!
TrackMaster will bring back what many modern racing games are missing: local (AKA couch) multiplayer, with up to 4 player in split-screen mode.
And for that, the game already have full support for gamepad/controller! It is easy to navigate the menus and play with a mouse and keyboard, but if some friends come to your home, plug your computer on a TV and only the controller will be enough to play the game, no switching between mouse and controller when on the menus.
Of course, on-line multiplayer is planned too.
Complete List of Planned Features
MULTIPLAYER
Local (split-screen) and on-line multiplayer (that can also be played mixed with local multiplayer)
GAME MODES
4 game modes
FreeRoam - Drive freely, no time limits and no goals in any arena or track.
Event - Races and other events, see EVENTS, below.
Career - Start as a novice driver, with a bad car, and try to climb up the racing ranks!
Tournament - Combinations of events in sequence.
EVENTS
14 event types
FreeStyle - Do as many tricks as you can in 2 minutes. Front flips, back flips, spiral flips, long and high jumps. Or, prevent the others from doing their hard trained tricks.
Racing - You know, try to reach the finish line first. In this game, that's the only rule.
Kamikaze Race - A race event where half the vehicles drive the right way. The other half, the wrong way.
There and Back Race - Also race, but you drive one lap the right way, the next lap, the wrong way. And so on until finish.
Around the Flag Race - And yet another race event: after each lap, make a circle around a flag in the middle of the track, and then proceed to the next lap.
Master of the Hill - Stay as long as you can on top of the hill for 2 minutes. Also, make sure the other vehicles can't make it.
Football - You know, one ball, two goals. Period.
Red Rover - Drive from one end of the arena to the other. The last vehicle each time is out, until there is only one, the winner.
Capture the Flag - Two teams, each one with a flag. Take the other teams flag and bring to your base.
Demolition - Destroy anything that moves.
Tag - Or "Touch And Go", the playground game, the one you played as a child. Now with big toys.
Cops and Robbers - Or "Team Tag ". You also played this one as a child. Now, with big toys too.
Hot Potato - Stay most of the time with the potato. Touch the vehicle with the potato to steal it.
Cold Potato - Stay away from the potato. The one carrying it, loses points. Touch other vehicles to pass on the potato.
Trailer Mode - All of the above, but with trailers attached. Try to finish the event with your trailers, and try to make the other vehicles lose theirs.
Arenas
11 arenas on the works and counting!
TrackMaster arenas are designed to prevent any kind of normal behaviour from the drivers, so that everyone does it's best, or worst...
All tracks/arenas are going to feature at least an asphalt and a dirt version.
Vehicles
So far, there are 17 vehicles/types planned.
Note that each vehicle actually represents a type or class of vehicle. Each vehicle will have variations, that maybe only for aesthetics or can present gameplay variations too. So, for example "Car" will probably have RWD, FWD and 4WD (gameplay variations), in different car models (aesthetics variations).
This separation is not entirely coherent right now, because vehicles like Garbage Truck, Fire Engine and Cement Mixer could all be part of the same class, like "Services Trucks". In the same way, Crawler could be part of Off Road. This is still
Photo mode:
How is the game planned to evolve?
ALPHA
The game will be launched in Alpha state: only local multiplayer, 2 game modes, 1 event type (race), 5 arenas and 3 vehicles.
The game will be ready for entering Beta stage when all the 14 event types, 11 tracks and 17 vehicles are added.
BETA
In this phase, the track editor, on-line multiplayer, career and tournaments will be added. The game will be considered ready for finished stage when this 4 features are added.
Of course that new arenas, event types and vehicles are probably going to be added during beta, since the foundations for them will be built in Alpha.
FINISHED GAME AND UPDATES
After it's finished, there are going to be constant, free updates adding more of everything that will be already on the game: vehicles, arenas, events (both local and on-line). If the game proves financially sustainable, I really would like to support it as long as there is an interested community. If that happens, there is no limit to how the game can evolve!
Follow the game and get more information at the game website:
Tags
: